Tucked away under that huge bridge toward the airport there's a little seafood market called Tomari Iyumachi. It's right on the water in Naha, so you know its fresh. Its located in the Minatomachi neighborhood, and if you weren't looking for it you'd miss it. It's probably the most delightful fish market I've ever been to. I'm not a huge fan of seafood markets or even the fish section of the grocery store, on account of the smell makes me nauseous. I was reluctant to go, but I'm glad I did.
When I walked in I was pleasantly surprised with the smell of the ocean (not the fish). Tomari Iyumachi smells how a fish market should smell. It's in a warehouse surrounded by fishing boats and ocean, so I'm not sure why I was surprised. You just never know with fish. Inside there's about 20-25 vendors selling all different kinds of filets, whole, sashimi, sushi, fried, seared, basically any way you want it. I bought two whole fish. Still not entirely sure what kind. I did some comparison to the chart on the wall and translated via google translate. My best guess is some sort of snapper. The fish monger spoke English well. I could've asked him, but he was busy. When the fish is that fresh, it doesn't really matter.
Now that I had dinner, it was time for a snack. Around the corner from where I got my fish were a couple stands selling ready-to-eat food. Fish anyway you want it, I got one of everything. It was all so delicious and the lady who rang me up was very accommodating with sauce, napkins, and utensils considering it wasn't a full service restaurant. There was a place to sit and eat on the side, or you could take it to go. It wasn't too crowded, even though it was a Saturday morning.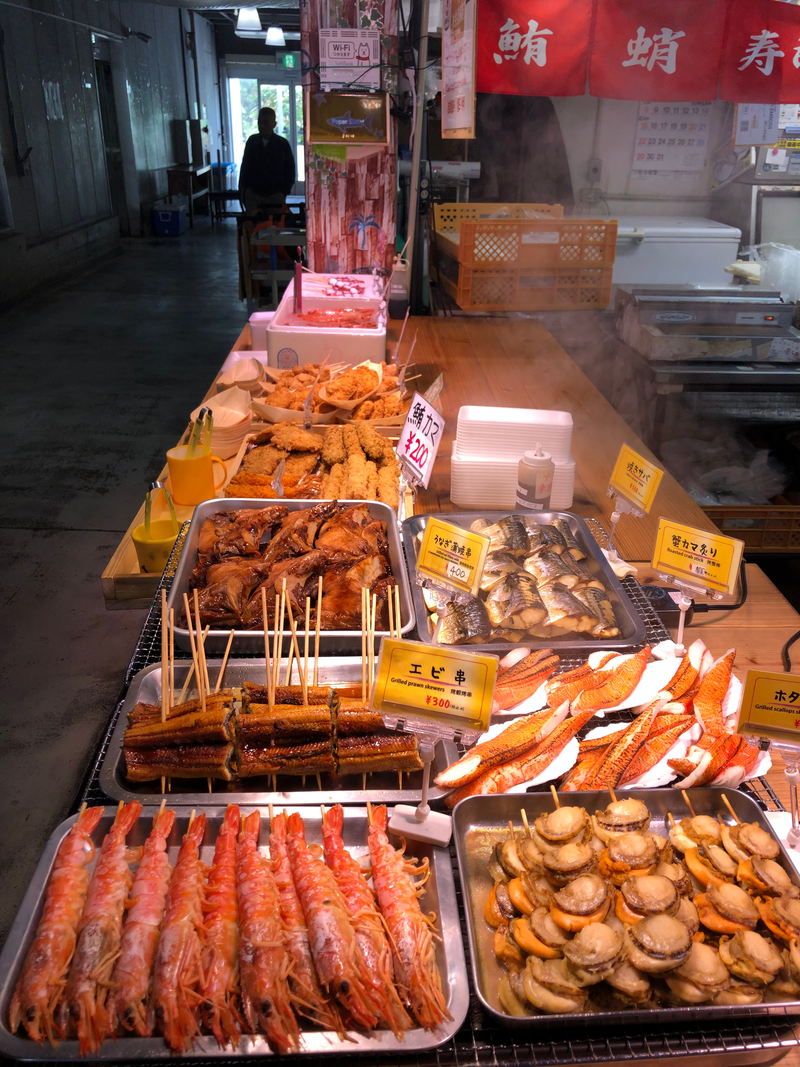 On the way back to the car in the parking lot I noticed a funny looking vending machine. It was selling eggs! Of coarse I bought some. they came out in a carton inside a plastic grocery bag. I didn't hear any gears turning or electrical movement inside so I am left to believe there are oompa loompas in the vending machine sorting eggs and what not… naturally. So, minus the confusion around the eggs and possible mistreatment of the egg handlers, i would give my Tomari Iyumachi experience a 10 out of 10.
https://goo.gl/maps/gNwTnYuvUc8cQc3G6
Address: 1 Chome-1-18 Minatomachi, Naha, Okinawa 900-0001
Hours: Everyday 6am-6pm
Phone: 098-868-1096
Credit cards: Yes