Once February and March roll around, we tend to forget all those rigid resolutions we set for ourselves in January, and start getting realistic. Hey, we're all for good nutrition, but sometimes you just have to splurge. What better way to indulge yourself than trying a sweet that's distinctly Okinawan? Whether for Valentine's Day, White Day, or "just because", we think these Okinawan candies will satisfy any sweet tooth.
Okinawan Black Sugar
Kokuto, or Okinawan black sugar, is often touted as "healthy" by Okinawans, as it retains minerals that are removed from white and brown sugar.  While eating chunks of it, as the locals do, may not appeal to you, it's also good mixed with peanuts, as brittle. Find kokuto in groceries, convenience stores, gift shops and even 100 yen stores all over Okinawa.
Gourmet Chocolate
Gourmet chocolates make lovely gifts for Valentine's Day, birthdays, or housewarming parties. In Japan, women give men chocolate on Valentine's Day, and the men return the favor with gifts on White Day  on March 14th. Find fancy designer chocolates and other sweets made exclusively in Okinawa at the Fashion Candy store in Ginowan near Futenma. Worth trying: sakura chocolate, flavored with pink Okinawan cherry blossoms. Fashion Candy Map
Pineapple Chocolate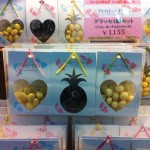 Pineapple chocolate combines white or milk chocolate with Okinawa's most popular fruit flavor, sometimes filled with dried pineapple pieces. Pineapple chocolate, as well as pineapple cakes, wine, and all sorts of treats can be sampled and purchased at the Pineapple Park in Nago. Entrance to the park is ¥600 for adults, or free if you just want to browse the gift shops. Google Map
Ben Imo Kitkats
Ben imo KitKats® are an Okinawan twist on this beloved candy. The Okinawan purple potato is mixed with white chocolate to create a cute lavendar chocolate bar with a sweet, slightly tangy flavor to go with those unmistakeable crispy layers. While ben imo is praised for being a nutrient-dense super food, we're pretty sure these KitKats® count more as a treat than a health food. Find ben imo KitKats® at the Pineapple Park and other Okinawan gift shops on island.
Shisa Candy
These shisa gumdrops are almost too cute to eat. They're sure to brighten any kid's day–or any adult's, for that matter. Buy them individually in different colors and flavors. There are also shisa bubblegum candies sold individually or in packs of five. So far we've only found these candies at Okashi Goten, also known as the Purple Potato Factory, in Onna Village near Zanpa Lighthouse. Google Map