'Cause I-I-I'm hungry for some Bulgogi tonight. With the success in movies and music lately, Korean hype is on an all-time high. It's time to match it up with some good awesome Korean food from Lee's Kitchen and light this baby up like Dynamite!
Before getting in to the food, first of all, service is fast! Usually when it comes to Korean food, I expect to wait awhile for my order to be ready. But at Lee's Kitchen, wait time was surprisingly minimal. I know that might not be too important for some but for people like me with only 45 minutes lunch breaks, it's an absolute godsend. For the food, I had the Bulgogi (Shocker! The meat guy strikes again!) It was an absolute delicious juicy explosion. They had a sauce that is not your typical yakiniku sauce but rather more viscous like soy sauce. Despite my best efforts to ignore, I must admit that they have a pretty awesome Ssam (lettuce wrap) and vegetable selection.
The Ssam actually pairs better with the meats than the rice which leaves you with a lighter feeling. Honestly, I prefer any food that you can gobble up like a spring roll and eat with your hands (probably because it makes me feel like a monkey eating a peeled banana). They also have a good selection of Bibimbap dishes, Sundubu, and Ssam Baps. Boy… I hope you are ready for some rich spice flavours. Also, make sure to leave some room for the Dalgona coffee. It's a dessert-like drink which is simple but effective and gets the job done. Another great thing about Lee's Kitchen is that you can pretty much sit anywhere or order out one of their to-go boxes in case you are in a real rush.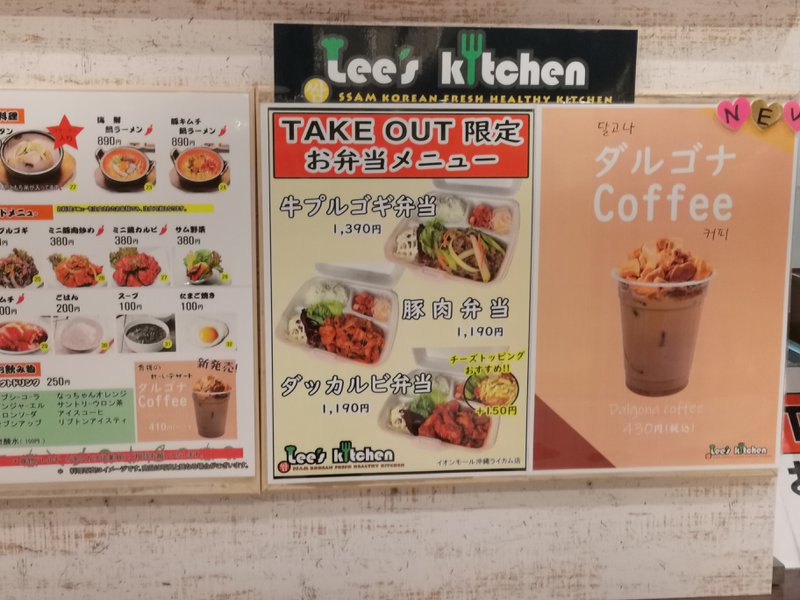 As for the price, it's around mid-range at about 1000 yen plus per set menu. I suppose you can get one of the bowls for a little less at 800 yen but personally for me (Male in his 30's) the quantity doesn't seem enough. Lee's Kitchen is perfect for business lunches, after movie dinner with friends/families, and oddly, date night works too.
Lee's Kitchen in located in the 3rd floor of the Rycom mall food court. Keep your eyes peeled for that bright green lit sign makes it very easy to spot!
Location Name: Lee's Kitchen
Google Map Location Link: https://goo.gl/maps/DSqq3cR8TqGKHSTt5
Tel#: 098-923-3514
Website: None
They accept yen, credit card, and electronic payment
Opening Hours: 10:00am-10:00pm (Everyday)